Hanging baskets provide colour, atmosphere, privacy and …..
they can look fabulous.
Hanging baskets have been around forever, everybody has heard of the famous Hanging Gardens of Babylon.
The city of Victoria BC has made hanging baskets their trademark. In 2015, 1035 hanging baskets were assembled by the City's Parks staff, they have become a major icon for the capital because of one man, Herb Warren, with the most decadent flower baskets hanging from the lamp posts in the shopping districts every summer.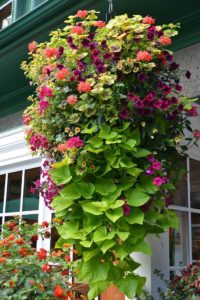 The traditional hanging basket liner has been the coco fibre or coir liner made from the husk of the coconut, being a natural fibre, this is great you would think.  But after a year or so, they need to be re-potted.
So to keep up with the pace, even hanging baskets liners are evolving, now the Eco Aus Liner, a long lasting reusable hanging basket liner can be used in your hanging baskets.
Have you seen this.., I'm sure we all have.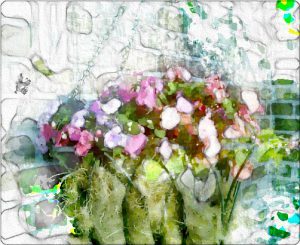 Or if you have an urge to hang a few baskets, because you've found a few second hand baskets at a garage sale or on gumtree,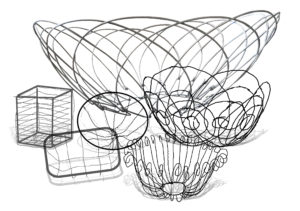 and now you need liners for them.
So measuring the baskets for new EAL liners – because they last…
First of all you could just go to the local hardware or nursery supplier for new liners
and  you will find the traditional coco fibre, or coco latex, if the basket is less than 40cm in diameter.
It is rare to find larger sized hanging baskets at the local outlets.
Larger sized baskets means the baskets have been handmade from heavier duty materials by local artisans and it is equally difficult to find liners to fit.
Most outlets stock liners to fit up to 40cm diameter hanging baskets but not bigger.
and then there is the type of liner,
Comparison available hanging basket liners…
available hanging basket liners, coco fiber, also called coir, coco-latex fibre, molded coco-latex  fibre, from your local supplier,  and Eco Aus Liners (EAL) available online.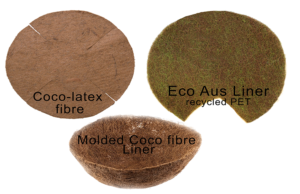 Coco and Coco-latex, molded liners will last approximately 12-18 months, and need to be re-potted.
Eco Aus Liners will last up to 10 years before needing to be re-potted.
Eco Aus Liners
Eco Aus Liners are light-weight, flexible, porous and long lasting.
Made from recycled plastic soft drink bottles, the long, thin, green or brown spun fibres interlocked into black mesh, can be adapted to suit almost any shape or sized basket or container. The EAL liner is soft, strong, easy to work with and can be cut with scissors to trim or shape if necessary.
When considering replacing the liners in your hanging baskets,
a good way to check the size of your basket, to make sure the sizes will fit well,
is to measure underneath around the outside of your basket
as if you were taking a slice through the centre,
From the top on one side to the opposite point on the other side.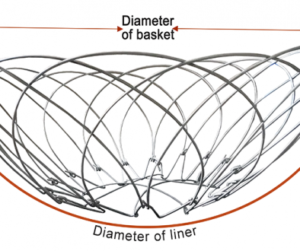 Eco Aus Liners
Eco Aus Liners are cut here in our workshop
To fit the hanging baskets, also made here on site, and available in kits.
The liners and hanging baskets range from 25cm to
a whopping 75cm in diameter with a matching liner.
EAL liners are cut to match the flattened basket plus 5cm all round to fit well.
So if your basket measures 80cm from one side to the other, use the table below to find the best fitting liner for your hanging baskets.
Compare the outside basket diameter of your basket in the table below, and to order use the Basket Diameter size, as the liners are listed according to the basket diameter.
Basket Diameter

Outside basket

diameter

Liner Diameter

To order Liners

Use Basket diameter

Check your baskets size

The liner actual size

25cm

50cm

50cm

30cm

55cm

55cm

35cm-40cm

70cm

70cm

50cm

80cm

85cm

60cm

90cm

100cm

75cm

115cm

115cm
Some tips
If the liner is undersized for your basket, it will still work, but the top edge of the liner will drop below the top edge of the basket, therefore there will be less potting mix in the basket and the basket will be slightly lighter weight wise.
If the liner is oversized, the liner can, with care for your hands, be trimmed with scissors to suit
Or it can be folded into the basket and held in place with potting mix till the plant contents need to be moved to a larger basket, then the whole contents – plant, potting mix and liner can be lifted into the larger basket, add more potting mix, reshuffle everything so it's all snug,
These liners are porous, so the water will run straight through,
If you want the baskets to remain wet for longer,
Consider first
Adding perlite and or vermiculite to the potting mix, for lighter baskets
Some find adding river sand helps, makes a heavier basket
Also peat moss helps.
Then of course, some enthusiasts like to line between the liner and the potting mix with wet newspaper. Being wet the newspaper molds to shape well, and when it is dry it acts as a barrier to the moisture.
Or some put saucers of small containers between the liner and the potting mix
Others just line between the liner and the potting mix with plastic shopping bag,
Depending how far this comes up the sides, you may need to make a few very small holes so the moisture doesn't stagnate.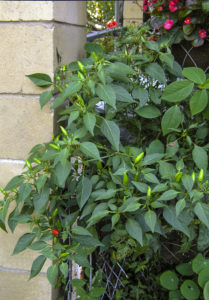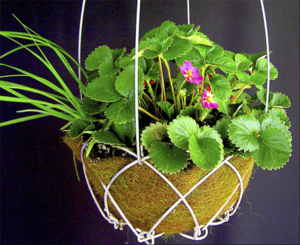 Thank you for reading this guide
I hope this has been helpful and happy hanging basket-ing.